In the News
Characterizing MCID and assessing the role of preoperative PROMIS scores in predicting outcomes for reverse total shoulder arthroplasty at 2-year follow-up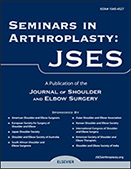 Jonathan R. Warren BS, Alexander D. Pietroski MS, BS, Sreten Franovic MS, BS, Alexander Ziedas BS, Nikhil Yedulla BS, Eric C. Makhni MD, MBAS, Stephanie J. Muh MD
The Patient-Reported Outcomes Measurement Information System (PROMIS) has gained more ground as a reliable and efficient means of collecting patient outcomes in different shoulder surgeries. The purpose of this study is to determine if preoperative PROMIS scores are able to predict improvement in postoperative PROMIS scores and anchor this data to determine ...
---
Elizabeth A.Klag MD, Noah A.Kuhlmann MS, BS, Joseph S.Tramer MD, Sreten Franovic MS, BS, Stephanie J.Muh MD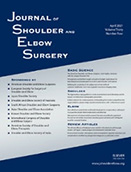 Multimodal pain control can be beneficial in relieving postoperative pain and limiting narcotic use following orthopedic procedures. Additionally, with increasing interest in outpatient arthroplasty procedures, providers have interest in adequate early postoperative pain control and complications. The purpose of this study was to investigate the effect of dexamethasone on pain, postoperative nausea and vomiting, and length of stay following total shoulder arthroplasty (TSA) and reverse total shoulder arthroplasty (RTSA).
---
Acute vs delayed reverse shoulder arthroplasty had similar outcomes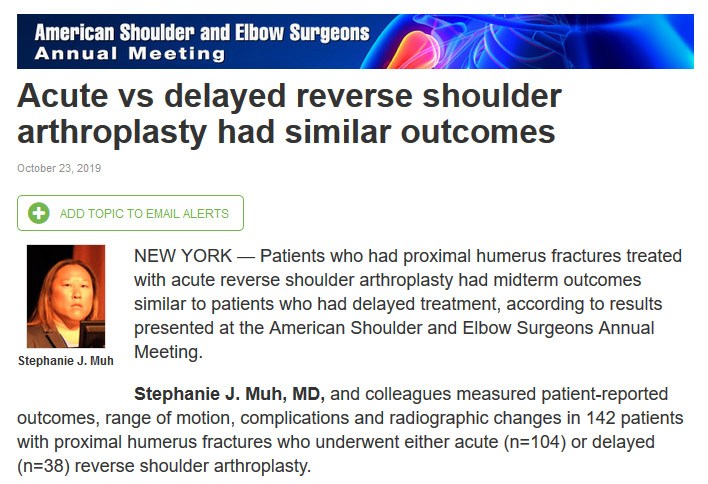 ---